The old adage 'You are what you eat' has never been more true if you want radiant skin. Vitamin C is one of the most important ingredient and it is indispensable for a healthy skin and its ability to provide an effective shield against the sun has made it an indispensable ingredient used in the cosmetic industry.
EAT YOUR WAY TO GLOWING SKIN!
Every woman has a favorite face cream, but beautiful skin starts with nourishment from within. Skin cells are shed and replaced by new ones every 2-3 weeks and a steady supply of micronutrients is essential to support this rapid growth. With the correct intake of foods and drinks you can feed your skin the vital nutrients it needs to help it stay soft, supple and blemish-free.
WHAT IS VITAMIN C
Vitamin C or Ascorbic acid is a super antioxidant. It is needed for a strong immune system, radiant skin and helps blemishes heal properly. It is essential that we include Vitamin C in our daily diet as our human body cannot store it. Our system uses only the required amount of Vitamin C on a daily basis, eliminating the rest via urine.
Our body needs Vitamin C to make collagen – a protein that helps support tendons, ligaments and blood vessels and keeps the skin and other organs together.
SOME BENEFITS OF VITAMIN C FOR THE SKIN
1. Sun Protection:
Vitamin C protects our skin from free radicals that develop due to excess exposure to the sun, environmental pollution and regular smoking. The antioxidants in Vitamin C protect the skin from ultraviolet radiation and the effect of sunlight exposure.
2. Production Of Collagen:
Vitamin C is a required component for the production of hydroxyproline and hydroxylysine, both of which are needed to bind the molecules that produce collagen. It is collagen that prevents sagging of muscles and hence keeps the skin young and supple and prevents wrinkles and the dreaded lines on our face!
3. Heals Wounds:
The body uses Vitamin C to replace the damaged tissue and helps to heal the wound at a faster pace.
4. Protects Against Skin Discoloration:
Vitamin C protects DNA from photochemical reactions that can lead to tumor, skin discoloration and several kinds of skin cancer. It lightens dark discoloration like skin freckles and age spots and helps to get a younger and smoother skin.
5. Improves Skin Texture:
Vitamin C increases the formation of elastin which thickens, protects and heals the skin cells. The thickening effect helps retain moisture, increases the skin circulation and plumps up the skin surface.
VITAMIN C SOURCES
The current Daily Value for vitamin C is 60mg.Fruits and vegetables are the best sources of Vitamin C.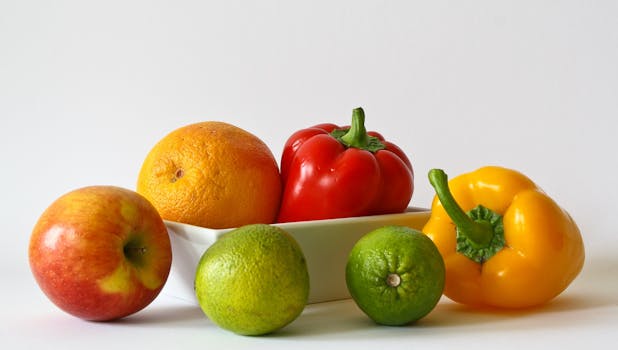 Citrus fruits like oranges, grapefruit, and their juices, as well as red and green pepper and kiwi fruit contain a huge content of Vitamin C. Other fruits and vegetables which include Vitamin C are broccoli, strawberries, cantaloupes, baked potatoes, dark leafy greens and tomatoes.
The Vitamin C content in food may be reduced by prolonged storage and by cooking. Steaming and microwaving can also reduce the Vitamin C content.
Now that you know the secret for a radiant beautiful skin, make sure you drink up that glass of lemonade.
An Orange a day might just keep the Dermatologist away!